Today, there was a meeting called 'Red Teapot Tuesday' where a few members / artist's from Artspace gather at the Herbert Gallery and have tea and general discussions. The point of the meeting was to be social with other members share ideas and views of their work and to talk about anything in general.
'Red Teapot Tuesday':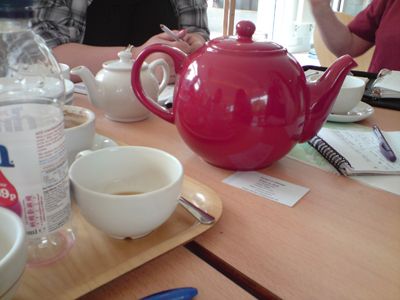 Free Reign met up at Herbert gallery at 1pm and waited inside the cafe for about an hour or so. We thought it was odd that no had turned up yet so we asked the reception if they knew anything about 'Red Teapot Tuesday'. It turns out and there had not been a 'Red Teapot Tuesday' meeting in several months - this raised us some concern as well as the fact that we had no supervisor with us, we felt very confused. Gill and Leah turned up around 2pm and we sat and chatted about their event and Artspace for almost an hour and a half. During the discussion we were asked to be stewards for their event which then moved on to discussion of how things were to be arranged in the event.
Gill and Leah then left in discussion of finding some materials for their event pamphlets.
Free Reign then waited another 15 minutes and because no other members had turned up in the for the meeting (in the 2 hours or so) we decided to go home and work on gathering contacts of local businesses for discount as a membership benefit of Artspace.
I thought that 'Red Teapot Tuesday' was a confused and a random event at the Herbet cafe. The staff there knew little of the meeting and it seemed that it was unorganised, having been told that the meeting had not happened in quite some time. The group was alos left responsible of the teapot - as people new the meeting, I felt the situation was a mishap. But in the professional world, the realisation that these kinds of situations do happen makes me feel I should become more prepared and confident in trying to not let it.